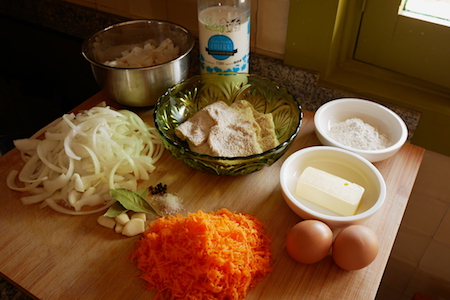 Surprisingly versatile, bacalhau deserves its spotlight in Portuguese cuisine although I've grown tired of the cliché that there are 365 salt cod recipes… one for each day of the year. Why be so trite about such an amazing ingredient? This recipe has a more dignified beginning than most: a royal crowdpleaser based on the French brandade de morue spread. A rich, creamy bechamel combined with the sweetness of onions & carrots tastes divine, so the dish lives up to its name.
Bacalhau espiritual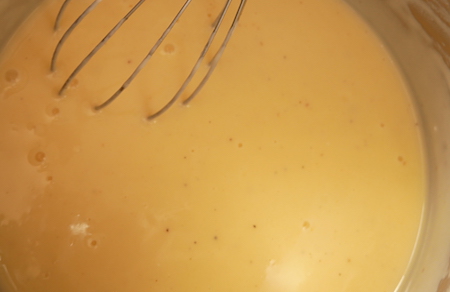 50 g butter
50 g flour
350 ml milk
2 egg yolks
salt & pepper to taste
nutmeg if you wish
First step: Make a bechamel sauce. This is a lot easier than most people think & serves as a basis for many Iberian recipes. Standard practice mixes equal parts of flour & butter, generally to one liter of milk. The more solids you add, the thicker the sauce will be. Something light to pour over cannelloni would be 45 g of each solid, but for deep-fried croquetas I've seen recipes that use almost double that amount. The measurements here give a slightly thicker bechamel but not in great quantity. I love the sauce, but it can easily turn into too much of a good thing for my taste. Egg yolks give sheen, a bit of color & a richer texture. Ramp up the spices because bechamel by itself can be a bit bland. Some people say adding cold milk will prevent lumps from forming, some people say hot milk does the same. My suggestion? Have milk at room temp. Always works for me.
Let's get started. Melt butter to slightly bubblying in a small saucepan on medium heat. Add flour & mix well until incorporated. Keep stirring & cook for under 60 seconds. Add milk bit by bit, stir to mix, add more milk & repeat until done. Remove from heat & continue to stir. When sauce temperature drops a bit, stir in yolks one by one. Season & set aside.
Step 2: Soak 4-5 slices of white bread (crusts removed) in a small quantity of milk. Bread must be moist, but excess milk isn't used… so don't add it in the first place & there's no waste.
400 g cod, desalted & chopped
1 large onion, thinly sliced
2 large carrots, grated
3-5 cloves garlic, thinly sliced
Olive oil, as needed
Salt & pepper to taste
2 bay leaves
Milk-soaked bread made previously
Bechamel sauce made previously
Step 3: Make the filling. This dish can be made with fresh or salted cod. If using fresh, poach cod in water with a bay leaf until done then chop into small pieces. I'm partial to preserved cod, so remember to soak it for at least 24 hours with several changes of water. Add a decent amount of olive oil to a skillet, & sauté onions on medium-low heat with salt, pepper & bay leaves until translucent. This is a confit to bring out the sweetness of the onion & not about browning. Patience please. Add carrots & garlic; cook for a few minutes. Add cod & continue to cook until the water/gelatin is released. I always keep a decent amount of this liquid… just make sure not to cook it all off. Stir in soaked bread along with half of the bechamel, mix together & set aside.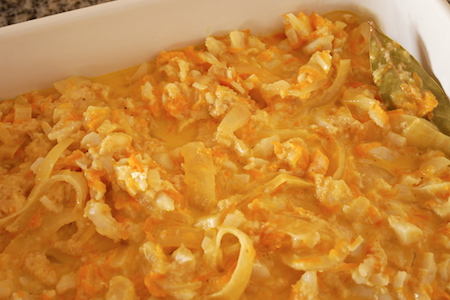 Breadcrumbs, as needed
Parmesan cheese, as needed
Step 4: Assemble. Preheat oven to 200ºC. Place all the onion/cod mix in a casserole dish, top evenly with remaining bechamel, & sprinkle with breadcrumbs & parmesan. No need to go crazy here, just add enough to get a crispy topping. Bake for 25 minutes. If not brown enough, switch heat to broiler & leave for a couple more minutes.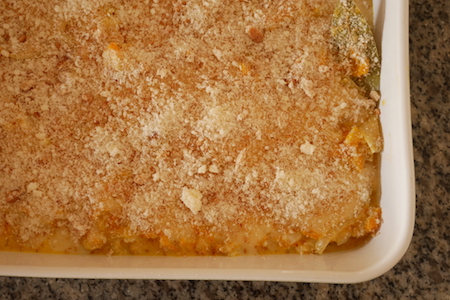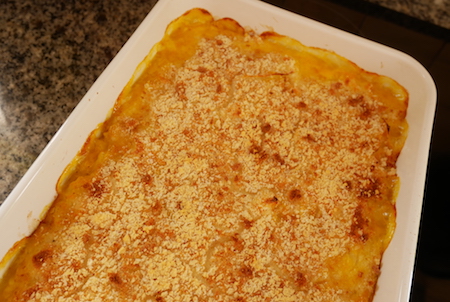 Enjoy this spiritual cod creation!