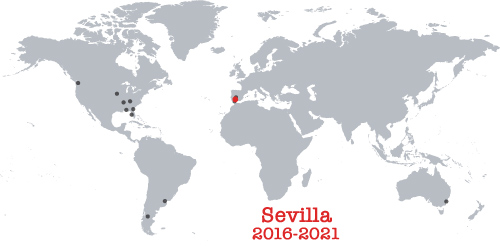 As I wondered if Seattle would be financially feasible in the long run, I met Rafael between work assignments in Spain. We shared similar interests & even the same profession… not to mention Rafa is one of the kindest people I know. During a visit to Seattle in 2016, Rafa learned that his father wanted to sell the family apartment in Sevilla. Suddenly he was looking for a place to live & so was I. Although I'd never considered living in Sevilla before meeting Rafa, the universe steered me to Andalucía once again.
---
Sevilla, España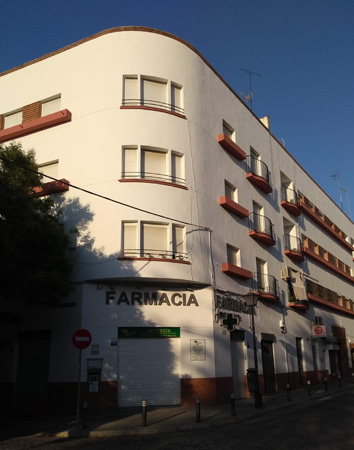 We began the apartment search online while in Seattle. Like most everyone these days, we scoured listings on idealista.com & hoped for the best. One particular apartment struck our interest but was off the market before Rafa could return to Sevilla. Too late. But as luck would have it, another place in the same building became available… even better than the first. Rafa visited in person, sent me photos & we moved to the neighborhood of El Porvenir in August 2016. Initial rent started at €730 (pretty standard for the area & our 75-ish square meters), but has since increased to €780. Still not bad considering Sevilla is the fourth largest city in Spain.
We're still here, so I won't list the exact address but the location is perfect: a couple blocks from Parque María Luisa, nestled in residential area with no bars or noise on our street & very close to the city center. The property itself is amazing, built in 1939 at the end of the Spanish Civil War, & one of the few racionalista buildings in Sevilla. The basement even housed a bomb shelter in its early days! We sit at tree-top level with a balcony looking toward the towers of Plaza de España, so there's lots of natural light. Most floor tiles are original as are windows & doors. The best part: Rafa & I each have our own office space —a rarity in Spain— with quite a bit of storage. Thanks to frequent trips to Portugal, I could put together a mid-century living room with favorite things from the country next door.

---
The journey has come to an end… or has it? I'll turn 50 next week —the reason for writing this series— & loved searching for photos + reminiscing about all these places I've lived. We considered buying the apartment where we are now, but Rafa & I are also drawn to some place more rural where we can have a bit of land & garden space. Or maybe Portugal? Impossible to say. Growing up in the southern US, I never expected to have the experience of living on four continents during these first 50 years. Let's see where the next 50 take me…
Places lived series: Florida/Iowa/Alabama 1970-75 ● Memphis 1975-88 ● On campus 1988-94 ● Seattle 1994-98 ● Cádiz 1998-99 ● Memphis/Seattle 1999-2000 ● Buenos Aires 2000-08 ● Sydney 2008-09 ● Buenos Aires 2009-13 ● Esquel 2013-14 ● Seattle yet again 2015-16 ● Sevilla 2016-present